Diane Lotny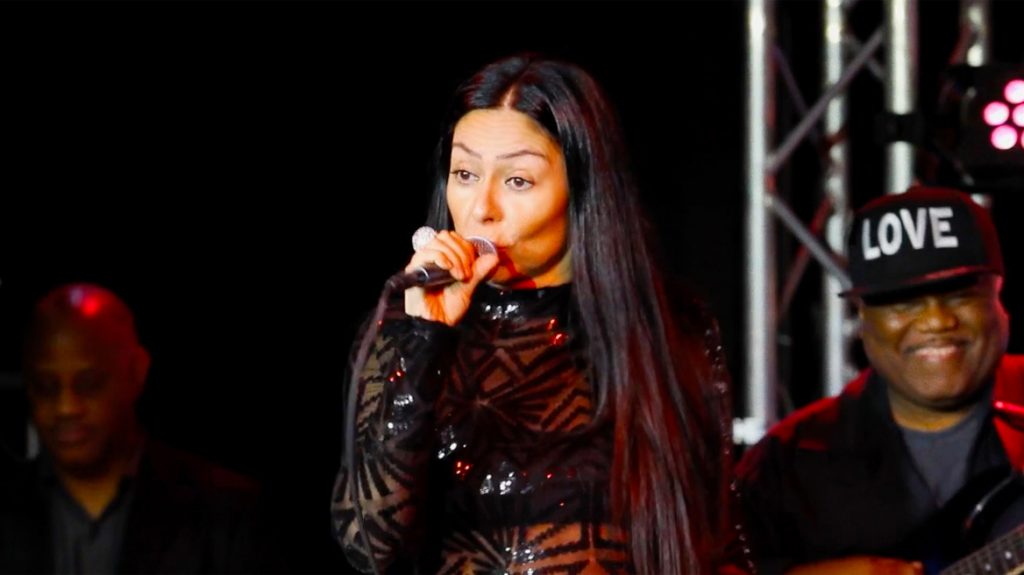 Biography
Born and raised in New York City, Diane was grabbed by the sounds of the day, SOUL, SOUL, SOUL! As Diane put's It, "Motown that stuff was killin' me, I loved it!" Some of the backdrops to Diane's musical education were WABC Radio, The Ed Sullivan Show, American Bandstand, Soul Train, Don Kirshner's Rock Concert and The Midnight Special. Beatles, Stones, Supremes, Aretha Franklin, Ray Charles, Ike & Tina Turner, Stevie Wonder, The Jackson 5, Joe Cocker, Sly and The Family Stone. Diane's musical appetite was unstoppable!
In the mid-1970's, Diane had discovered fabled music club Maxes Kansas City, there everybody was a Superstar and there was where she put together her first band. By 1981 Diane had started performing with many of the touring artists playing in NYC. Big Joe Turner, Roomful of Blues, Albert Collins, James Montgomery, Bobby Blue Bland, Kate Taylor, Sam Andrews, Cornell Dupree and Touring with Buddy Miles.
By 1991, Dr. John came calling and off to New Orleans she went, performing for over 300,000 during her first 3 shows with the band at the Legendary New Orleans Jazz & Heritage Festival. In New Orleans, Dr. John opened Diane up to a whole new world of music which afforded her the opportunity to perform and record with legends like Allan Toussaint, Linda Hopkins, Irma Thomas, Marva Wright, Ernie K-Doe, Frankie Ford, Fats Domino, Benny Turner and touring with Earl King and Walter "Wolfman" Washington.
Another turning point in Diane's career was In 2004. Central Park Summer Stage 120,000 in attendance, Diane Lotny, Phoebe Snow, Chan Marshall, Genya Ravan, Judith Owen and Kate Pierson from The B-52's took to the stage with "Big Brother and The Holding Company" with special guest "The Kosmic Blues Band" who were performing for the first time in over 30 years. After the show Guitarist Sam Andrews invited Diane to play some dates with him in Los Angeles and her path was setÉ.she was LA bound!
In 2006 while in Los Angeles, Diane was asked to write a theme song for a TV pilot and had the great fortune to meet Legendary Motown, Wrecking Crew guitarist Don Peake at his recording studio in Burbank. From that day on together their musical journey beganÉ writing music for film and TV. Don invited Diane to join "The Don Peake AllStars", a Los Angeles-based band of local talent like Ray Parker Jr., David T. Walker, Clarence McDonald, Ellis Hall, Ray Pizzi, Freddie Washington and James Gadson. In 2016 Don and Lamont Dozier Jr. son of legendary Motown songwriter Lamont Dozier (Holland-Dozier-Holland) formed "Generations of Soul" and made Diane a part of their core group. They are now performing to sold out houses throughout Southern California.
On June 29th, 2015, Diane had the honor of singing at the 69th Gala of The United Nations General Assembly under the direction of U.N. Music Director Robin DiMaggio backed by The NY Symphony Orchestra led by Musical Director David Eaton.
Diane Lotny is a singer, songwriter, and musician. She propels herself from the cradle of timeless roots music, flavoring it with soul from the eclectic pace of city life. She delivers here performances passionate and heartfelt with a power and vocal clarity reminiscent of the days when powerhouse divas ruled.